A compendium of things to know, things to do, places to go and people to see:
» Contact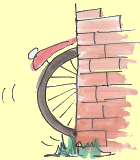 « Previous | Main | Next »

Dutch dj Afrojack and Paris Hilton incognito [January 9, 2012]

Dutch DJ Afrojack and hotel heiress Paris Hilton have been spotted incognito, appropriately, in Paris. She's wearing a dark wig. But why is he wearing such wrong colour, off-yer-bum too-big jeans? BTW: the hoodie and shades really give it away.

The Telegraaf has the picture.

Paris is in Amsterdam an awful lot. Where does she stay?
The latest news from the Netherlands