A compendium of things to know, things to do, places to go and people to see:
» Contact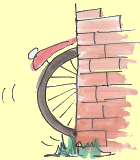 « Previous | Main | Next »

Amsterdam's canal ring residents are not lefties after all [April 7, 2012]

For some reason in the Netherlands, the people who lived in the 17th century canal rings of Amsterdam are regarded in populist circles as being left wing. The likes of Geert Wilders like to refer to the linkse grachtengordel elite. But according to the Parool, it's just not true.

The city council's research team decided to check out the political choices of those who live in on the Singel, Herengracht, Prinsengracht and Keizersgracht and guess what, 27% of them vote Labour and 27% vote for the right wing conservatives who call themselves Liberals and are know as the VVD.

There are even a few - heaven forbid - who vote for Wilders himself.

However, Wilders does not need to abandon his favourite grachtengordel enemies just yet. Canal ring residents might be white and rich, but they are also fond of cultural pursuits and like going to museums - both of which Wilders would like to stamp out in his own version of the Chinese cultural revolution.
The latest news from the Netherlands