A compendium of things to know, things to do, places to go and people to see:
» Contact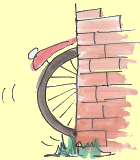 « Previous | Main | Next »

Amsterdam set to slash spending [May 12, 2012]

Financial troubles at city hall. According to the Parool, Amsterdam council has to slash spending by an extra €144m this year.

The city is already in the process of finding cuts to the tune of €208m by 2014. The paper does not really make it clear why the extra cuts are needed, but says the bulk of the savings - €120m - will be realised by reorganising the central administration and borough councils.

The remaining €24m will be generated by 'hard and painful intervention in the physical and social domain, which is necessary to absorb the risk of new savings' - whatever that means.

However the cuts pan out, the council expects some 4,900 civil service jobs will have gone by 2020.

The figures are contained in confidential documents which city finance chief Lodewijk Asscher is due to publish on Tuesday.
The latest news from the Netherlands