A compendium of things to know, things to do, places to go and people to see:
» Contact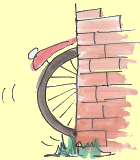 « Previous | Main | Next »

Master chef doesn't know anything about his new restaurant [September 12, 2012]

Amsterdam's modern art museum the Stedelijk, closed for god knows how many years for renovations, will open again soon with its revamped restaurant under the 'culinary supervision of master chef Ron Blaauw'.

Only problem is, the Parool reports on Wednesday, is that Blaauw himself is completely unaware of his new business venture.
It all seems to be the work of Blaauw's business partner Jan Semeins, who, the Parool says, has set up a special company to take care of the Stedelijk's catering.

And while the two cooks in charge did work with Blaauw, the two-star chef says he has signed nothing and hasn't set a foot in the museum itself for three months.

Stedelijk business director seems unphased by the news. 'This will be Blaauw's cuisine. I've had a sneak preview taste: pure, fresh and delicious.'

Blaauw doesn't blame his partner for not keeping him in the loop. "I think they are too busy,' he says.

The paper also reports that the new-look cafe has been named after property magnate Cor van Zadelhoff, who chaired the museum's fund-raising activities for years.

Theatre impresario Joop van den Ende also gets a room named after him while others are named after foundin sponsors: Schiphol, Audi and Teijin.

Cor tells the paper he is now trying to device a cocktail with his name as well. Perhaps after that, he could give Ron a hand in the kitchen?
The latest news from the Netherlands