A compendium of things to know, things to do, places to go and people to see:
» Contact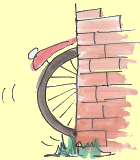 « Previous | Main | Next »

Yes!! we've got a new garbage sign [October 24, 2012]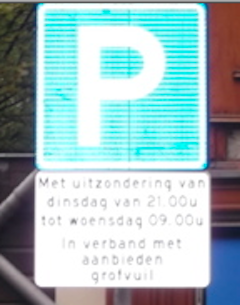 We had a new bunch of workmen in the street this morning, putting up a new sign on the opposite side of the street. It tells drivers not to park in this particular space on Tuesday night because of big garbage day.
The sign indicates the big garbage will be picked up by 9am on Wednesday.
Why they have put this sign up I am not quite sure because the council has sent us lots of leaflets telling us to put our 'big garbage' out on the pavement in front of our door.
This may be to make it easier for the Bulgarian recyclers who patrol our street to pick up anything interesting, but I could be wrong.
Anyway, to say that the big garbage is picked up by 9am is not true. This is the situation by our shiny new electronic underground container at 11.23on Wednesday morning.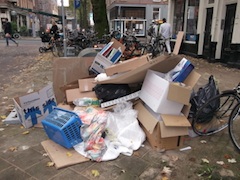 As you can see, we have a fine collection of cardboard boxes, including empty chip boxes from the snackbar, plus several bags full of dirty nappies and other horrors from the creche. I know because I watched the girl dump them there.

Well, what else could she do? Take them home? Because our new bin has stopped working.

It can't be full because it has this super deluxe crushing mechanism to minimise the bags and hardly anyone has actually worked out how to use it.

I asked the nice man from the council about the other stupid sign - the one that says people in this neighbourhood don't leave their rubbish next to the container.

He said it would probably be taken away now. That will mean yet another team of workmen.

So far seven different companies plus the council have been involved in sorting out our bin situation this week. I'm glad the council is doing its best to encourage gainful employment.

STOP PRESS: I came home from work this evening to find out that, yippee, the bin had been emptied and all the dirty nappies taken away. Only trouble is, the green light still isn't working and a whole new pile of garbage is piling up.

There are also four perfectly okay wicker garden chairs going begging. Where are the Bulgarians when you need them?
The latest news from the Netherlands