A compendium of things to know, things to do, places to go and people to see:
» Contact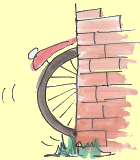 « Previous | Main | Next »

'Living work of art' Fabiola is dead [January 27, 2013]

Amsterdam icon Fabiola has died of cancer. Fabiola, with his makeup, his hats and colourful clothes and flowers, has been part of the Amsterdam street scene for what seems like ever.

I first remember him in the early 1980s, a glittering creature covered in gold foil, perched on ridiculous high shoes as he walked down the centre of the Damstraat.

Fabiola was born in Germany in 1946, but I always thought he was German. His real name is Peter Alexander van Linden but he took the name Fabiola, after the Belgian queen, even though he was a staunch republican.

If you search for photos of him on Google, you'll find pics of the other Fabiola mixed up in the middle. Sometimes it is hard to spot the difference.