A compendium of things to know, things to do, places to go and people to see:
» Contact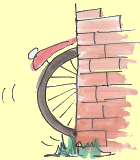 « Previous | Main | Next »

Amsterdam steakhouse caught selling horse [February 14, 2013]

Oops. Amsterdam steakhouse Piet de Leeuw has been selling fillet of horse rather than fillet of beef to its customers, according to Thursday's Parool.

The cafe, on the Noorderstraat, has been famous for its delicious steaks since the 1940s. It's not clear what made the Parool suspicious, but it had pieces of steak checked by butcher, a master chef and in a dna lab. The conclusion: horse.

The owner - and grandson of the founder - told the Parool he did not understand what was going on. 'We buy South American beef,' he says. 'All I know is it is beef. We have a name and a reputation to keep up. Perhaps a bit of horse got mixed up in the delivery or the supplier made a mistake.'

Supplier Fontijn Vlees is having none of it. The cafe has been buying horse for years - maybe even 10, a spokesman told the Parool. 'We deliver what the customer asks for and Piet de Leeuw buys horse fillet from Argentina. It is written down in our adminstration, on the receipt and it is totally impossible for the owner not to know it was horse. There is even a picture of a horse on every packet.'

The Dutch used to eat a lot more horse than they do know - we used to have a butcher in our street who sold horse steaks. But horse is out of favour, so it is hardly surprising some unscrupulous folk have been using it to bulk out more expensive meats.

Everyone is at pains to say there is no danger attached to eating horse. That may well be the case. But the bottom line is, people are lying about what is in our food. Horse today, dog tomorrow? And if you are really keen on recycling, what about a bit of human mince.

A friend of mine used to work in a hospital where the morgue was next to the kitchen. He was never very keen on lunch.