A compendium of things to know, things to do, places to go and people to see:
» Contact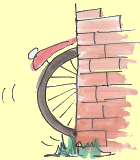 « Previous | Main | Next »

Amsterdam plans to fine persistent truants €10 a hour [March 14, 2013]

Here's another great idea from the bright sparks at Amsterdam city council. They are going to fine persistent truants €10 an hour, says today's Parool.

Those caught sneaking off lessons for 16 hours within a four-week period will be slapped with a €160 fine - and if they don't pay up, the debt collectors will be sent in.

If the teenager has got a job, the council will even apply to have their wages seized to make sure they pay their debt to society. Given the fact most school pupils are on minimum youth wages - around €3 an hour is not unusual - it might take quite a long time to raise the €160 but, well, its the principle of the thing.

What about the parents? you may ask. Well, parents can already be held liable for the sins of their under-18s but that requires the involvement of public prosecution department. The council's new idea can be done through local bylaws without the involvement of the big cheeses in the justice department.

But surely, if the fine does not work... will these pesky pupils get jail or community service? No, says the Parool. The fine will be doubled.
The latest news from the Netherlands