A compendium of things to know, things to do, places to go and people to see:
» Contact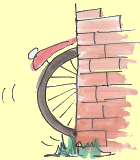 « Previous | Main | Next »

Apparently, we all love our mayor in Amsterdam [July 6, 2013]

He may the scourge of city hall, but Amsterdammers love their mayor Eberhard van der Laan according to the city's O+S market research group. He gets an average mark of 7.6 out of 10 from the ordinary Amsterdammer, the Parool says.

At the town hall it is a different story, however. 'There are numerous anecdotes about civil servants who have been reduced to tears,' the paper says.

If a policy document does not meet his approval 'he never says 'could you look at it again?'. 'Some people feel he has been terribly rude to them... but he is very together.'

How many times have we wanted to be terrible insulting to civil servants at city hall? The list is endless. We've never been a big fan of Van der Laan but start to like him better now.
The latest news from the Netherlands