« Previous | Main | Next »

Restaurant Blauw makes us see red [March 31, 2015]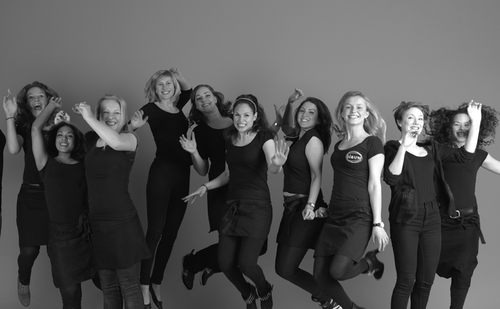 We should have been suspicious when we first looked at the website. All those arty black and white pictures of people posing with peppers, rather than food. But hey, we were out to celebrate and Blauw on the Amstelveenseweg seemed the perfect place to do it.
However....
Despite the lovely smiling girls prancing all over the page, Blauw left us seeing red. In fact, it would not be an exaggeration to say the reception we received was the most unpleasant and unprofessional we have ever encountered from restaurant staff in Amsterdam in the last 30 or so years – or indeed anywhere, ever.
Dressed in our best and full of happy anticipation, I informed the young man who greeted us that we had reserved a table online for four people some two weeks previously to celebrate my husband's birthday.
With a stern face he turned to his computer and after a few moments of silent scowling, asked if I had 'proof' of the booking. Startled, I asked him what he meant. He wanted to see the confirmation email on my mobile. When I told him I didn't have my mobile with me, he clearly thought I was some sort of imbecile.
This attitude continued for the following 10 minutes or so during which he invited me to find evidence of the reservation by checking my mail on his computer (I declined), ignored me completely while addressing my daughter as if I was incapable of understanding the need to reserve a table, and generally made us feel like some form of low life trying to crash our way into an exclusive private party.
My daughter (who being in her 20s did of course have her mobile with her) showed him the forwarded message confirming the booking. This failed completely to impress him. IF I had reserved, he said, it may have been for their restaurant in Utrecht. Yeah right, like I would want to drive to Utrecht on a Saturday night when we live less than a kilometer from Amstelveenseweg.
I suggested that perhaps he could just see if there was a table available or not. We continued to stand sandwiched between tables with waitresses shoving past us as he once again consulted his computer. By now our celebratory mood had disappeared. Along with my patience. And my husband's temper. It was only as we walked out that he said sorry. Talk about too little, way, way too late. It was insulting.
But perhaps we should have suspected Blauw isn't the friendliest of restaurants when we read this on the online menu: When sharing a main course/rice-table 10,00 euro is charged for the second plate.
So we went instead to Affourtit round the corner on the Koninginneweg where we were immediately offered a bottle of prosecco while we waited for a table, plus scroppinos and cake on the house for desert. And, best of all, friendly smiling staff who sang happy birthday as if they really meant it. Thank you Maarten Affourtit and crew for making it a happy birthday.